4 Tips for Successful Weed Control
POSTED ON April 11, 2018 BY Galena Lawn Care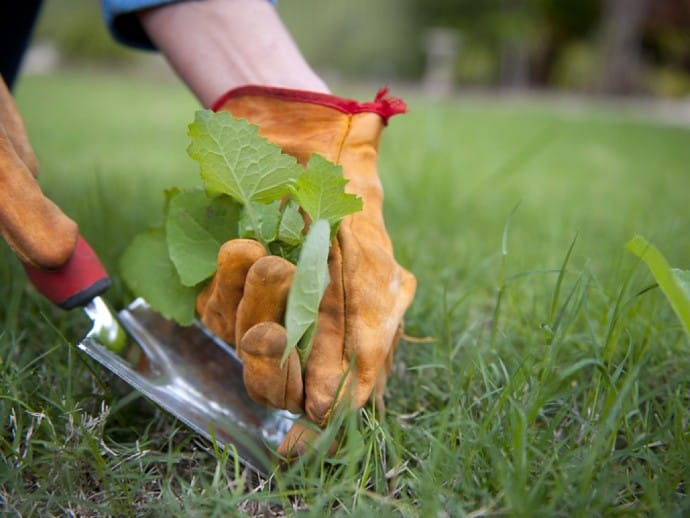 A weed is any plant that's growing where it is not wanted. Most of us cringe at the sight of a weed that will negatively affect the growth and appeal of your landscape. Weeds can be aggressive and when left alone, can invade the healthy plants that you want to see grow. It's a hard task to stay ahead of weeds and when they arrive, to get rid of them! Getting rid of weeds can take a sufficient amount of work and time. You shouldn't spend all of your gardening time on trying to defeat those pesky weeds.
If you're reading this, you've probably found yourself seeking a solution or prevention of weeds at one time or another. Although there is not a guaranteed action to eliminate weeds completely from your garden, there are some steps you can take to decrease weed growth on your property. Below, the professional Galena Lawn Care weed control technicians provide 4 helpful tips to successful weed control.
Tip #1 – Fertilize Your Lawn Regularly
Fertilization of your lawn is important in keeping weeds away. Knowing when to fertilize your lawn, what fertilizer is best for your lawn and where on your lawn to fertilize your lawn can be tricky to master. Seeking out a lawn fertilization company in Galena, Ohio can contribute to a consistently healthy lawn.
The expertise provided from professionals can apply answers and the knowledge needed to properly fertilize your property. Galena Lawn Care offers experienced fertilization specialists who can put their expertise to work for you and help prevent the unwanted plants that can take over your garden.
Tip #2 – Use Mulch
Mulching your landscape can help to prevent weeds from sprouting up at the worst possible time. Mulch provides a protective layer on top of the soil that is great for blocking out sunlight from getting to the root of weeds. Mulch promotes healthy plant growth for desired plants and can be assembled to restrict weed growth. Mulch can bring about small critters like certain beetles and crickets that can destroy the weeds for you! Galena Lawn Care can provide you with professional garden mulching services in Galena, Ohio.
Tip 3 – A Good Time to Weed
Weeding when the ground is wet is an integral time to take action when implementing successful weed control. Galena, Ohio weed control is best suited for wet ground conditions. When the ground is dry, it is very hard to tend to a weed and pull weeds out of the ground successfully. Right after a rain storm, when the ground is very wet, is a good time to go get the weeds out of your garden because it will require less pulling, twisting, and effort to remove all of the weed.
Tip 4 – Don't Forget the Root
Being sure to remove all of a weed, as mentioned above, brings upon the next tip we will uncover which is to never leave behind the root of a weed. Roots of weeds that are left behind will continue to grow again and conquer your garden. Making sure that you eliminate the entire weed especially up through the root, will confirm a complete ejection of the weed.
Contact a Professional Lawn Care
When fulfilling weed control efforts on your property, it is best to seek assistance from a professional lawn care company in Galena, Ohio. Following the 4 tips provided above will help in achieving successful weed control but these tips can be best utilized by hiring an expert. Galena, Ohio lawn fertilization services, as well as weed control services can be delivered by Galena Lawn Care. Contact Galena Lawn Care by phone at 740-913-159, or by connecting with us online.
Read more: Advantages of mulching